MARINE DIVING REPAIRS AND SUPPORT
From Lost Car Keys To Freight Hauling… Lazy Otter Can Help
Lazy Otter Charters Inc, has been operating in Whittier for seventeen years offering water taxi and custom sightseeing adventures throughout Prince William Sound. With our knowledge of the Sound and marine operations, Lazy Otter Charters is able to offer many convenient marine services based out of Whittier. Our rates are reasonable and our services prompt and reliable with safety as our first priority.
Marine Diving Repairs And Support
Zincs need to be changed, strange hum coming from your propeller, lost your anchor,or dropped your car keys overboard? These are just a few of the calls, Capt. Mike Bender has responded to.
We offer Marine diving services in Whittier. No need to wait for a diver to come from Anchorage and paying travel and standby time. We are available on short notice and on weekend and holidays.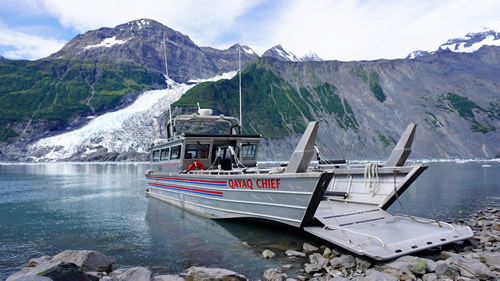 General Diving Services Include:
• Recovery (anchor, car keys, wedding rings)
• Zincs
• Haul inspection
• Prop changes
Towing And Salvage Services
Commercial towing throughout Western Prince William Sound
Fuel delivery, battery jumps, minor marine engine repairs
Salvage and recovery
Rates based per mile – Hail Lazy Otter Charters on VHF channel 16 or via cell phone: 907-244-0654 for Captain Mike. Lazy Otter Office Phone manned 24 hours: 907-694-6887.
Small Freight Hauling
The Qayaq Chief is a 44ft landing craft designed for speed and beach landings to facilitate ease of loading and unloading. Licensed for 22 passengers the Qayaq Chief can handle crew and room for covered storage as well.
• Scientific and Research Support
• Film and Photography Support
• Building supplies
• Grocery, fuel, supply delivery
• Trail crew support
• Surveying
• Hunter and camper drop off
High Velocity
31ft x 11ft, Landing Craft
6 passenger
The High Velocity is a 31ft x 11ft landing craft. With 6 passenger and 6 kayak capacity makes this vessel best for small group water taxi. Designed well for small freight hauling and hunting charters.
Explorer
30ft x 10ft, Charter Boat
6 passenger
The Explorer is a 6 passenger vessel perfect for small- intimate groups. This vessel is well designed for our custom sightseeing cruises. Comfortably seats six, with an open back deck, bow hatch for forward viewing, bow landing capabilities, and onboard restroom.
Qayaq Chief
40ft x 14ft, Landing Craft
22 passenger
For kayak groups the QC has capacity for up to 18 passengers and associated kayaks. This vessel is perfect for small freight hauls and is especially nice for film and photo shoots. The bow door can be lowered to provide water level shots.